Give them the sport of a lifetime!
Proper tennis fundamentals in a kid-friendly delivery system!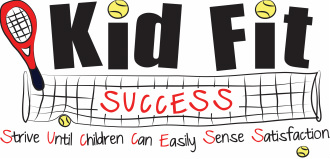 We are SUCCESS driven.
Strive Until Children Can Easily Sense Satisfaction

Covid has all programs except Brushy Creek suspended until further notice.
Private pods still actively accepted
Kidfit-tennis is an independent, locally owned business. While the website might not be as fancy as some, the teaching comes from the heart! Each location (listed at the left) has specific information about how tennis is taught there. Call me (512.632.0672) or write to me (kidfit.tennis@gmail.com) if you have any questions or need information that I failed to include on this website.
We offer high quality instruction, and we specialize only in the sport of tennis. Because of this specialization, you will be able to measure your child's progress from month to month as their skill set grows.
We keep the ratios low to ensure a good learning environment. We design each lesson with specific tennis related skills and an atmosphere of FUN, because happy people learn best!
Kidfit has a preschool program, and a school age program. At Kidfit, tennis is taught in variety of environments, including a tennis court, gym, multipurpose rooms etc. I teach tennis to kids age 3-18. I am happy to try to bring my tennis to your school or group. If you want tennis at a place I don't already teach, talk to me and I'll try to make it happen.

A little information about the preschool, indoor program:
I realize it is not too traditional to bring small nets and modified equipment to a cafeteria or gym and hold tennis lessons, but I do think it has value for the kids and that the skills they learn are real and will transfer to a standard tennis court setting.


Basic tennis for young children will be taught in a fun, cooperative environment. I will teach them proper tennis fundamentals to allow them to graduate into a real court setting with all the basic skills intact. Most kids who progress to real courts with me or elsewhere begin at a higher level and have quicker success from having spent time in the tiny court with the slower balls. I emphasize fun, but I also require them to learn correct racket path, proper footwork, and the language appropriate to tennis. The small, indoor environment is appropriate for ages 3 -9.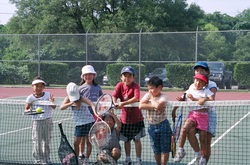 follow us on facebook!


---